Sunday Services, 8 & 10 AM
Join us for free coffee & donuts downstairs between services!
Switching to summer hours on Sunday, May 29:
Sundays
Free coffee & donutes at 8:15 AM
One Service at 9 AM with Kids' Church for Ages 3 - 11
Wednesdays:
Kids' Church for ages 3 - 11 is available during the 10 AM service. Kids join the adults during the singing time and are dismissed to Kids' Church afterwards. 

Kids of all ages are welcome in the service. 

While there is currently no nursery care for kids younger than age 3, families are welcome to use the nursery and can listen to the service from there.
YOUTH GROUP:   May 25 & June 1 at 6:15 PM
Students in Grades 6 - 12
Bring a friend!
QUESTION FOR THE CHURCH OFFICE?
PRAYER & PRAISE TIME
We set up a circle of chairs in the front of the sanctuary near the piano.

It is a time to worship and adore Jesus that overflows into prayer requests for the advancement of His kingdom.

Join us Sunday, May 22 at 6 PM & Wednesday, June 1 at 6:30 PM

During the summer months, we'll be meeting on Wednesday nights.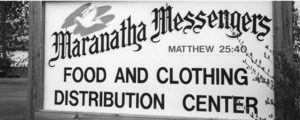 NEED ASSISTANCE WITH FOOD OR CLOTHING?
Maranatha messengers serves the public, providing food and clothing for those in need.

Located at 917 Pyle Drive in Kingsford.

Appointments required. Call 906-774-7877 to schedule.

Open Tuesdays, 9:30a.m. – Noon & Wednesdays, 9:30a.m. – 3:00p.m.